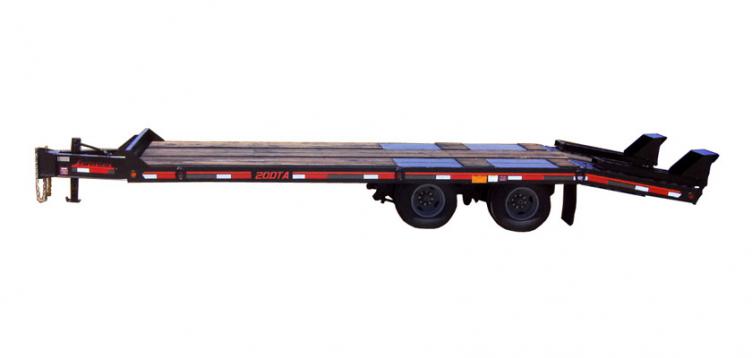 ---
Features
Mainframe
Pierced main beam construction with one piece interlocking crossmembers; W12″ x 16 lbs. per ft., grade 50; Hi-tensile.
Crossmembers
6″ I-beam x 3.7 lbs. per ft.; grade 50 Hi-tensile on 24″ centers.
Siderails
C8″ x 11.5 lbs. per ft.; grade 50 Hi-tensile
Suspension
Hutch 9700 multi-point spring with radius rod axle tracking adjustment, 44,000 lb. capacity
Axles
Heavy Duty (2) Each 10,000 lb.
Brakes
Heavy Duty Electric 12-1/4″ x 4″
Wheels
8 hole steel disc
Tires
(6) 235/80R16, (E) Capacity: 3,000 lbs.
Landing Gear
Heavy Duty 12,000 lb. Jack-Drop Leg
Finish
Black acrylic enamel; rust prohibitive undercoating
Floor
2″ nominal oak secured to crossmembers with 5/16″ torque screws.
Lights
12 volt DOT & ICC approved; all lights are LED type and flush mounted in rubber grommets; wiring is run in flexible neoprene jacket and modular in design; 7-way plug.
Tiedowns
(8) heavy duty D-rings, 4 per side.
Loading Ramps
58″ x 21.5″ traction with spring assist
Options
Yellow, white, gray or red acrylic enamel.
Model
20DT
Dimensions
29' long
24' (19' flat deck + 5' beavertail) deck length
8' deck width
34" deck height (unloaded)
Approximate Weight
5000 lbs. +/- 3%
GVWR
20000 lb. capacity tag-along trailer with beavertail & ramps (at 55 MPH GVWR 25900 lbs.)
Documentation